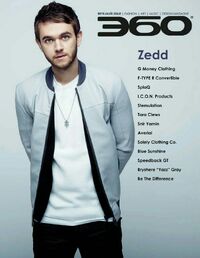 "
In four years of touring and playing hundreds of shows, we've not one single time played a perfect show, but we're still getting better and better with every single show. I think it's really important to always have something to work up to in life.
"

–Excerpt from Zedd's article in his issue of 360 Magazine
360 Magazine
is a fashion, lifestyle, and culture magazine.
Zedd
was featured in the February 2016 issue—both on the cover and in an article.
Zedd's article, written by Eiko Watanabe, delved into the background of his True Colors Tour, as well as the tour's namesake album.
Ad blocker interference detected!
Wikia is a free-to-use site that makes money from advertising. We have a modified experience for viewers using ad blockers

Wikia is not accessible if you've made further modifications. Remove the custom ad blocker rule(s) and the page will load as expected.